Democracy by the People: Reforming Campaign Finance in America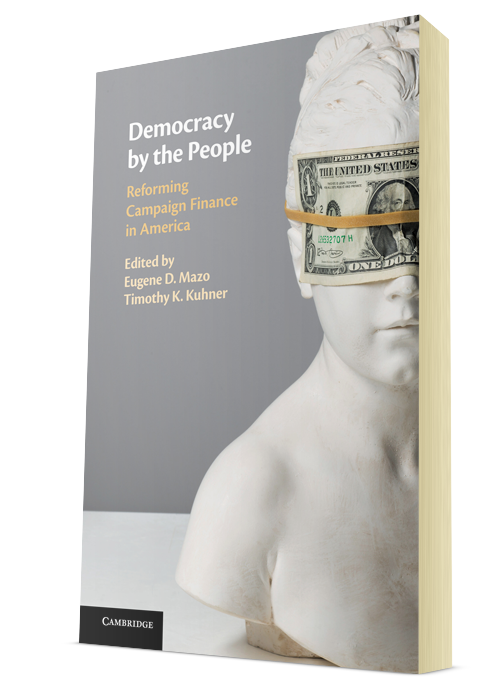 Cambridge University Press. Published in October 2018. With Professor Timothy K. Kuhner of the Faculty of Law at the University of Auckland, New Zealand. 
Thanks to a series of recent U.S. Supreme Court decisions, corporations can now spend unlimited sums to influence elections, Super PACs and dark money groups are flourishing, and wealthy individuals and special interests increasingly dominate American politics. Despite the overwhelming support of most Americans to fix this broken system, serious efforts at reform have languished. It doesn't help that campaign finance happens to be a highly intricate and complex area of the law, and that the system works to promote the interests the incumbent politicians who oversee it. This illuminating book takes these hard realities as a starting point and offers realistic solutions to reform campaign finance in the United States. With contributions from more than a dozen leading scholars of election law, it should be read by anyone interested in reclaiming the promise of American democracy.

Election Law Stories

Foundation Press, Law Stories Series. 
Published in April 2016. With Professor Joshua A. Douglas of the University of Kentucky College of Law. 

This book tells the history of the leading cases in election law. Each chapter is authored by a foremost scholar in the field. It is part of Foundation Press's Law Stories Series. The contributors include Richard Briffault (Columbia Law School), Guy-Uriel Charles (Duke Law School), Joshua A. Douglas (University of Kentucky College of Law), Heather Gerken (Yale Law School), Edward B. Foley (The Ohio State University Moritz College of Law), Luis Fuentes-Rohwer (Indiana University Maurer School of Law), Richard L. Hasen (University of California,-Irvine, School of Law), Justin Levitt (Loyola Law School, Los Angeles), Ellen Katz (University of Michigan Law School), Lisa Marshall Manheim (University of Washington School of Law), Eugene D. Mazo (Rutgers Law School), Erica Newland (J.D. Yale 2015), Daniel P. Tokaji (The Ohio State University Moritz College of Law), Franita Tolson (Florida State University College of Law), and Bradley Smith (Capital University Law School). 
Buy on Amazon ›